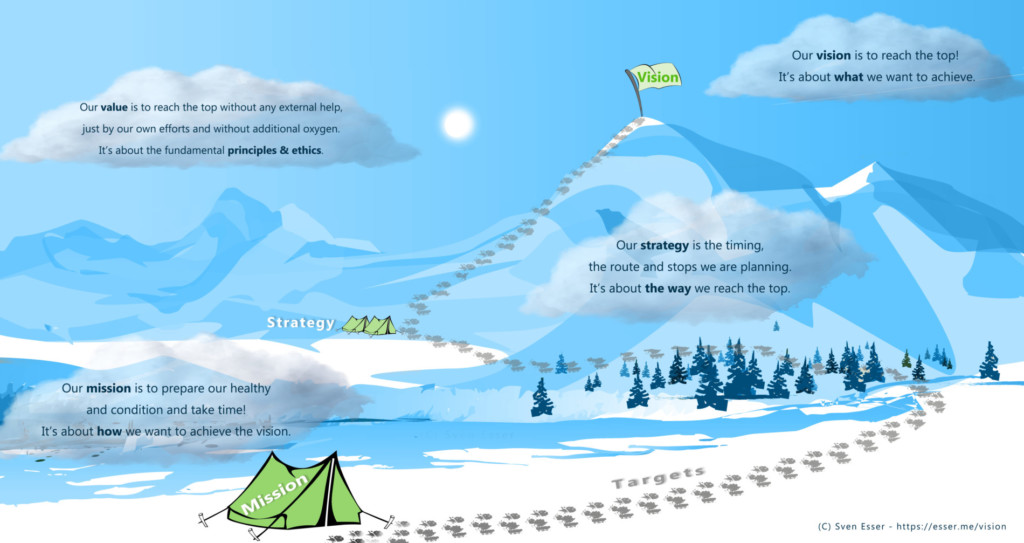 Click on the image to enlarge – Credits to Robert Herbig for the graphic inspiration
Often I see people start with a strategy… and left out vision, mission and values before. But what are the differences here?
Think it's time to draw the picture and clarify the differences. Let's assume we want o climb up the Mount Everest…
Our vision is to reach the top! It's about what we want to achieve.
Our mission is to prepare our healthy and condition and take time! It's about how we want to achieve the vision.
Our value is to reach the top without any external help just by our own efforts and without additional oxygen. It's about the fundamental principles & ethics.
Our strategy is the timing, the route and stops we are planning. It's about the way we reach the top.
…and our targets are the single steps on the path (part of the strategy)
Finally it doesn't matter if we reach the top. A vision is something which is very difficult to reach, it's more something which drives us and gives us a common direction. Maybe our strategy failed and we didn't reach the top of the mountain… then we need to change our strategy, not the vision. The vision will always be the same while the path is the goal.
Sometimes we work directly towards the vision and sometimes not. In this case we try to reach the Mount Everest and the next time we have a much lower mountain we are going up… just for training for the Mount Everest. The other mountain is an entirely different path, but with the same vision in background.
Is your vision a vision or more a mission or value? We shouldn't mix vision with target(s). The vision is often not reachable and if we name it target, than the vision is the final target.. butt better we don't name the vision target and use the word target for the targets we need to reach before coming close to the vision.
Following the post "Digital Transformation: Road Work Next 5 Miles", a vision is unreachable, while a mission last for 5-10 years and a strategy for 1-2 years.
Digital Transformation: Road Work Next 5 Miles
Day by day we read many articles about digital strategies, visions and so on…. This is theory! But how do you bring "Digital Transformation" to the road?
The example with the mountain will help to understand the differences. However, here are two real examples which are following this principle:
Vision
A world without Alzheimer's disease.
Mission
To eliminate Alzheimer's disease through the advancement of research; to provide and enhance care and support for all affected; and to reduce the risk of dementia through the promotion of brain health.
Values
The Alzheimer's Association's core values are forged by our commitment to the highest ethical standards and drive our priorities, commitments and organizational decisions. Our reputation is the ultimate asset, and these core values guide our behaviors, judgments and how we accomplish our mission:
Integrity
We assure and maintain transparency in our relationships with each other and with our various constituencies.
Commitment to excellence
We lead through innovation, maximize technology to its fullest and relentlessly increase our knowledge.
Inclusiveness
We operate in a spirit of inclusiveness by providing opportunities and forums for our many stakeholders to be represented and heard across activities throughout the Association.
Diversity
We vigorously encourage and welcome the power of diversity especially those who have been underserved or under-represented.
Consumer focus
We seek to understand, learn from and meet the needs of individuals with Alzheimer's disease, their families and caregivers.
Accountability
We keep our commitments and make measurable progress to achieve our mission.
Ikea combines his vision and mission statement. This is generally difficult because a vision is something real big which never changes while the mission can change from time to time. Some companies change their mission from year to year. However Ikea differentiate the vision and mission by sentence and names the mission "our business idea".
Vision
To create a better everyday life for the many people'
Mission
To offer a wide range of well-designed, functional home furnishing products at prices so low that as many people as possible will be able to afford them
Values
Togetherness
Togetherness is at the heart of the IKEA culture. We are strong when we trust each other, pull in the same direction and have fun together.
Cost-consciousness
As many people as possible should be able to afford a beautiful and functional home. We constantly challenge ourselves and others to make more from less without compromising on quality.
Renew and improve
We are constantly looking for new and better ways forward. Whatever we are doing today, we can do better tomorrow. Finding solutions to almost impossible challenges is part of our success and a source of inspiration to move on to the next challenge.
Give and take responsibility
We believe in empowering people. Giving and taking responsibility are ways to grow and develop as individuals. Trusting each other, being positive and forward-looking inspire everyone to contribute to development.
Caring for people and planet
We want to be a force for positive change. We have the possibility to make a significant and lasting impact – today and for the generations to come.
Simplicity
A simple, straightforward and down-to-earth way of being is part of our Småland heritage. It is about being ourselves and staying close to reality. We are informed, pragmatic and see bureaucracy as our biggest enemy.
Different with a meaning
IKEA is not like other companies and we don't want to be. We like to question existing solutions, think in unconventional ways, experiment and dare to make mistakes – always for a good reason.
Lead by example
We see leadership as an action, not a position. We look for people's values before competence and experience. People who 'walk the talk' and lead by example. It is about being our best self and bringing out the best in each other.
*****